Solar Firework Light
| | |
| --- | --- |
| Model Number: | BW-PSL-3093 |
| Color: | Multi-Color |
| Material: | Copper, ABS |
| Item Weight: | 9.9 Ounces |
| Voltage: | 1.2 Volts |
| Type of Bulb: | LED |
| Wattage: | 6 Watts |
| Batteries: | 2 AA batteries are required. |
Creative Solar Garden Lights
The variety of solar garden lights on the market is dazzling. The biggest advantage of our solar firework lights over them is that it allows you to use your imagination to DIY. Because this lamp is composed of multiple copper wires, the copper wires are high-quality and soft, and scattered small LED lamp beads are distributed on them. You can bend them, fold them in half or decorate your garden. Of course, you can also DIY them into heart shapes, circles, or cloud shapes. Trust that you and your family will be infected by this joy.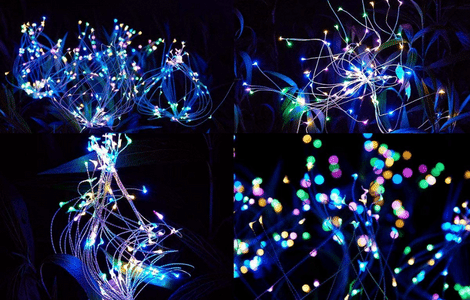 Brightness: About 120 LM
LED Quantity: 105 Bright LED
Waterproof Class: IP65 (waterproof from rain)
Solar Panel: Upgraded Polycrystal Solar Panel
Product Overall Height: 25.2 inches
Battery: 1.2V/1Pc 600mAh AA Ni-MH (rechargeable)
Working Time: 6-10 hours of lighting time after 4-6 hours of sunlight charging.
Switch: Light Control, ON / OFF/ Twinkling
2 Lighting Modes
This solar firework light has flashing and steady modes. The flashing mode is suitable for festivals and parties because it will flash automatically, igniting your cheerful atmosphere and making your play more enjoyable. The constant light mode is suitable for decorating your courtyard, backyard, flower beds, etc., making your home attract the attention of the whole community because of these lovely lights.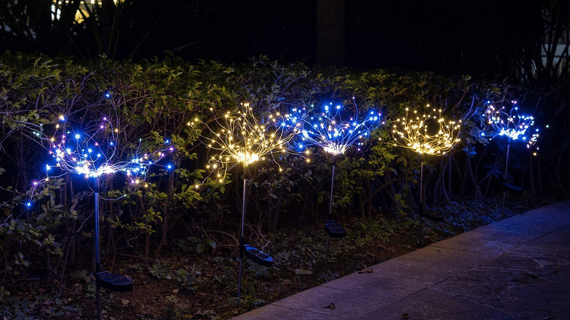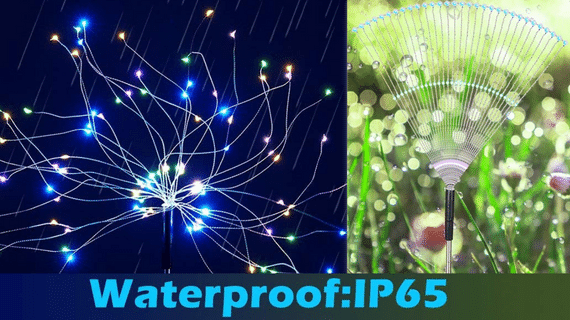 Waterproof
Maybe customers who are watching this solar firework light have such concerns: Although this solar garden light is beautiful enough, can it work normally in various extreme kinds of weather? For this, you can rest assured. Our solar firework lights are composed of 35 high-quality and durable copper wires, and the light poles are also excellent in water resistance, so a series of problems such as rust, fading, and breakage will not exist. This solar garden light can handle any environment.
Efficient & Easy To Install
We have upgraded the solar panel of the solar firework light again, making the battery capacity larger, so its lighting will be more efficient and energy-saving, and it will better meet the needs of customers. However, it should be noted that during installation, the fireworks light should be placed in a sunny place as much as possible to ensure its uninterrupted power supply and work.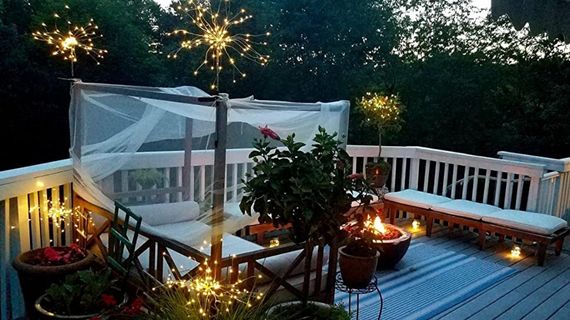 Related Product
For more related products, click on the picture to view the details.
Will these solar lights charge if there are consecutive cloudy days?
It will, but it won't be as efficient as a sunny day charge, and it won't last as long at night.
Is it ok to place these lights outdoors no matter what the season?
Absolutely, they are waterproof enough.
Does this solar firework light have a timer installed?
No, but they have built-in light sensors that automatically turn off at dawn and turn on at dusk.
Are they suitable as Christmas lights?
Of course, they are also suitable for Halloween, parties, and barbecues.
Do these solar fireworks lights only have a single working mode?
No, they have two modes, flashing and steady.