Solar Garden Light
| | |
| --- | --- |
| Model Number: | BW-SSS-1010 |
| Item Weight: | ‎3.47 pounds |
| Color: | Warm White |
| Material: | Stainless Steel, Glass |
| Shade Material: | Glass, Stainless Steel, Linen |
| Batteries: | 1 AA batteries required. (included) |
| Type of Bulb: | LED |
| Power Source: | Solar Powered |
Automatic ON/OFF
This hanging design outdoor solar decorative light will automatically absorb sunlight every day to prepare for night lighting, and every time the sun sets and night falls, it will automatically light up again, providing a piece of light for the surrounding until the new day comes. It's all because of the light sensor installed in this solar garden light. Therefore, owning it will greatly improve the convenience of your life.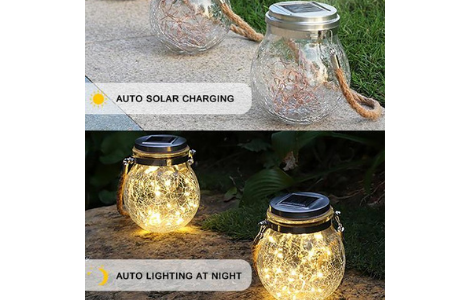 Reference Before Use
Product User Manual
1. The visible cracks on the appearance of the lamp are intentional, in order to increase the aesthetics of the design, not the cracks caused by the quality problems of the solar garden lamp itself.
2. Avoid collisions between solar garden lights and other hard objects during use, so as not to cause damage to the garden lights.
3. Although our solar garden light has excellent water resistance, it cannot be thrown into the water intentionally.
4. To better maintain the solar garden lights, clean its solar panels regularly.
5. When receiving the garden light, first turn on its switch and then place it in a sunny place for charging.
1. Make sure the button of the garden light is in the "ON" state, otherwise, it will not be charged.
2. If the solar garden light is installed in a place covered by eaves or bushes, it cannot be exposed to sunlight, let alone be charged.
3. The solar garden light has good water resistance in terms of climate, but if it is artificially soaked in water, it will cause irreversible damage to the garden light itself.
4. If there are many types of light sources around the solar garden light, it will also cause it to not work properly.
Intelligent Sensor Chip
This garden light requires no maintenance on your part, just place it in an area where the sun shines, as it only relies on inexhaustible solar energy. It can work all night on a full charge. With its own built-in light sensor, it can be automatically turned on and off according to the brightness of the surrounding light, which is economical while saving energy and convenient.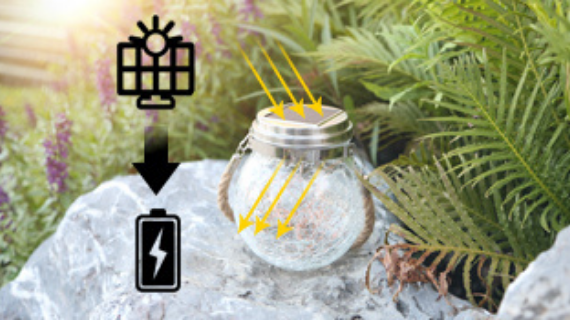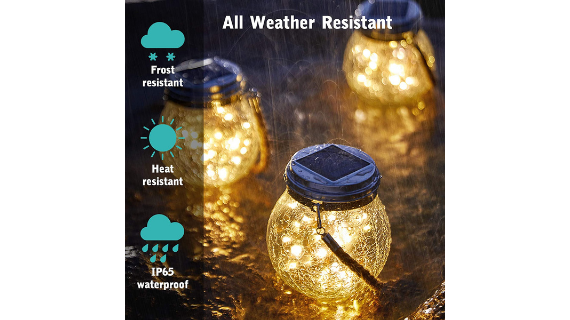 All Weather Available
Obviously, our hanging solar garden lights are made of special high transparent glass material. The top of the light is made of stainless steel, which is resistant to corrosion and wear, and the middle is a high-quality solar panel. After investigation and testing, these solar garden lights have a waterproof rating of IP65, and consumers can use them with peace of mind.
Creative Exquisite Craftsmanship
The texturing process of cracks is extremely difficult to master, but our designers can skillfully apply them to solar glass lamps. Romantic garden lights and linen lanyards create a retro and elegant atmosphere. The warm yellow soft light emanates from the LED, which wipes away all the tiredness and unhappiness of the day.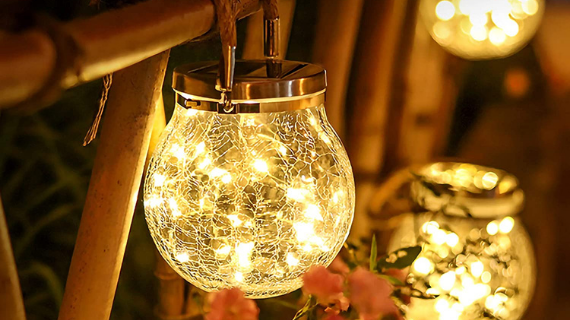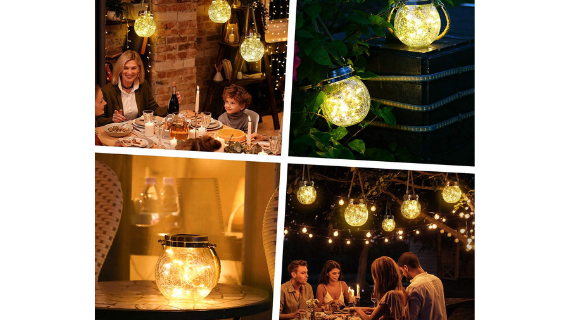 Multi-Use
Our spherical solar garden lights are widely used in various festivals and activities such as barbecues, weddings, Christmas, and other large-scale carnivals because of their charming and atmospheric shapes. Its lanyard design also makes it easy and natural to be placed on various occasions such as plywood, porches, windowsills, and patios.
Related Product
For more related products, click on the picture to view the details.