Solar Sensor Light
| | |
| --- | --- |
| Model Number: | BW-SEN-5001 |
| Item Weight: | ‎1.9 pounds |
| Size: | ‎9.17*4.88*4.09 inches |
| Material: | Acrylonitrile Butadiene Styrene |
| Voltage: | ‎5 Volts |
| Wattage: | ‎1 Watts |
| Type of Bulb: | ‎LED |
| Mounting Type: | ‎Wall Mount |
Waterproof and Durable
This solar sensor light is made of high quality Acrylonitrile Butadiene Styrene material, so it is very durable.
In addition, it is also IP65 waterproof and can withstand many kinds of bad weather, such as rain, frost, hail, etc. No need to worry about it seeping into water or getting damaged, it works and lights up your garden, yard, garage, driveway, front door, backyard, walls, and more.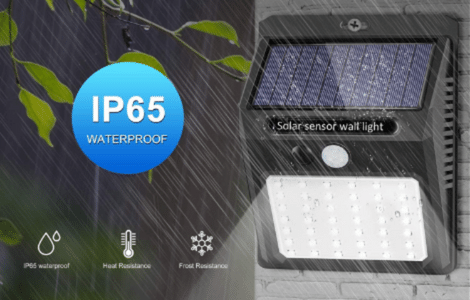 Brighter and More Efficient
Upgraded powerful LED Solar Motion Sensor Lights, providing a bright for a wide area. During the day, solar panels absorb sunlight to a greater extent and convert it into electricity to store in rechargeable batteries, resulting in longer lighting times. Have to admit, it's perfect for night lighting of paths, driveways, gardens, yards, walkways, patios, and more. But if there is no good sunlight for several days, thus the light may not light up at night. Please light up after 8-10 hours of charging.
Notice: Duration of lighting depends on sunshine exposure, install location, weather conditions and the hours of daylight.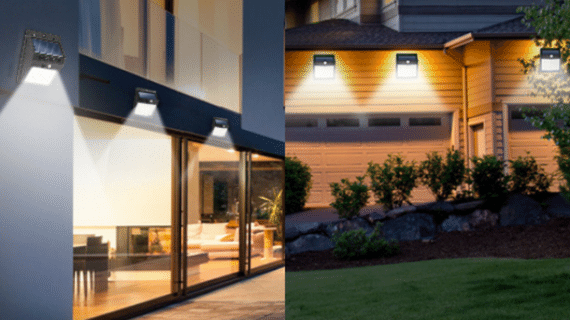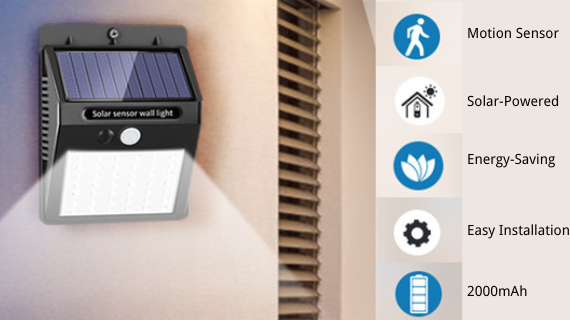 Safe and Energy-saving
The Solar lights with 2000 mAh rechargeable lithium-ion battery allows the solar lights to be continuously illuminated for longer periods of time to meet every day lighting needs. The solar panels work during the day to store electricity and light up the outdoors for you at night.
The powerful sensor ball head provides powerful motion sensitivity up to 10-16 feet, providing convenience and safety for your life.
Three Intelligent Modes
1. Dim Long Light Mode: Solar lights charging during the day, auto turn on to continuous light in darkness or at night.
2. Strong Light Sensor Mode: Solar lights charging during the day, auto turn on dim light in darkness or at night when no motion is detected. It will turn to bright light when motion is detected and last about 15 seconds, then turn to dim light again when there is no motion.
3. Motion Sensor Mode: Solar lights charging during the day, auto turn on bright light in darkness or at night when motion is detected and last about 15 seconds, then light will go off when there is no motion.
You can choose the mode according to your diverse needs.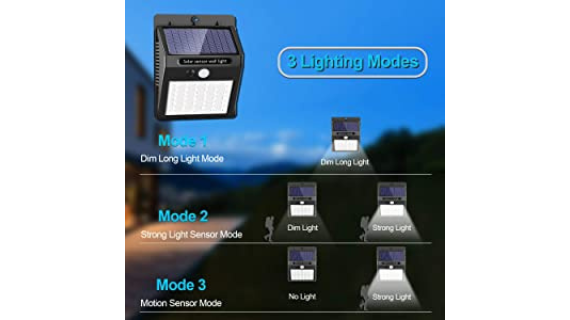 Related Product
For more related products, click on the picture to view the details.
What are the dimensions of the lights?
The dimensions of these lights are 9.17*4.88*4.09 inches.
Will they come on automatically at dark?
Yes, and they have three intelligent lighting modes that you can choose and set according to your different needs.
How many watts output each?
Do these hold up in cold Winter temperatures?
Of course, these lights are IP65 waterproof and have great weather resistance and durability.
Can I set these on a wall or do the lights need to be mounted?
You can do both but mounting is always more secure. It comes with 2 face tape but put in areas that have sunlight to charge the lights. Can be indoor too but it still needs to be charge up.
How do I install these lights?
These lights have holes for screws to attach to walls, and most of them came with screws. Just find a spot that would get sunlight for the solar cells.
Are batteries required?
No batteries. Totally solar.