Solar Sensor Light
| | |
| --- | --- |
| Model Number: | BW-SEN-5006 |
| Color: | Black & Yellow |
| Shape: | Rectangle |
| Material: | Plastic, Metal |
| Item Weight: | 14.4 ounces |
| Size: | 5.8*4.2*1 inches |
| Batteries: | 1 AA batteries required. (included) |
| Power Source: | ‎Solar Powered |
Three Optional Lighting Modes
Press the white button and the following modes are switched in sequence for each press:
1. OFF.
2.Motion Activated Mode (It activates to full brightness for 20 seconds, only when motion is detected)
3.Dim Light + Motion Activated Mode (This mode provides a continuous 20-lumen glow, then activates to full brightness for 20 seconds when motion is detected)
4.Stay On Mode (This mode provides half-brightness continuous light for 4-5 hours regardless of motion)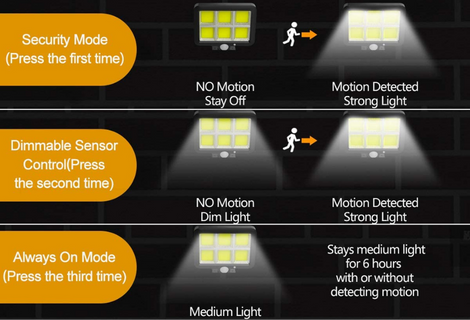 Style: ‎Modern
Switch Style: Push Button
Light Fixture Form: Floodlight
Finish Type: ‎Oil Rubbed
Light Source Type: LED
Number of Light Sources: 120
Luminous Flux: 800 Lumen
Color Temperature: 5500 Kelvin
Working Mode: Stay on + Motion sensor
Special Feature: Shatter resistant, Instant On, Shock and vibration resistant, Dimmable, 3-way switching, Waterproof
Enhanced COB LED technology
COB(chip-on-board) LEDs are the latest and most advanced technology on the market today. It can increase more than 3 times the lighting area, so it avoids uncomfortable glare by the maximum extent. COB LEDs are brighter and softer, less dazzling, consume less power, and output a higher quality beam of light compared to traditional LED technologies.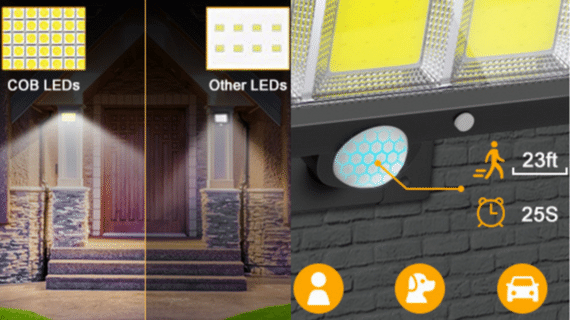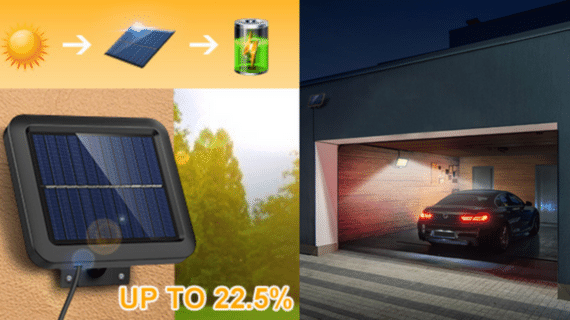 Separated Solar Panel Design
Big-worth solar wall light has a bigger and separate solar panel. With 16.4ft cable, you can put the solar panel in an open place to receive more sunlight. Powered by solar energy, no electricity bill or other pollution. The solar panel can reach up to 22.5% conversion rate. With Big-worth Solar Powered Outdoor Lights, you don't have to pay more on the electric bills, money-saving and eco-friendly.
Sensitive Motion Sensor and Waterproof
It only takes 5 minutes to install this solar sensor light. You can install the lights with included screws anywhere indoors or outdoors. Great to put in areas with no power outlet. Equipped with bigger sensor ball, which can detect motion up to 23 ft at a 120° angle, lights can reach 500 square feet. Besides, it is made of high-strength ABS material with IP65 waterproof rating and is specially designed to withstand various extreme weather conditions. Whether it's raining, snowing, or hail, it'll work just fine.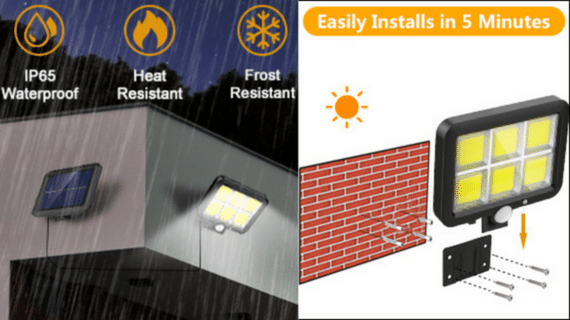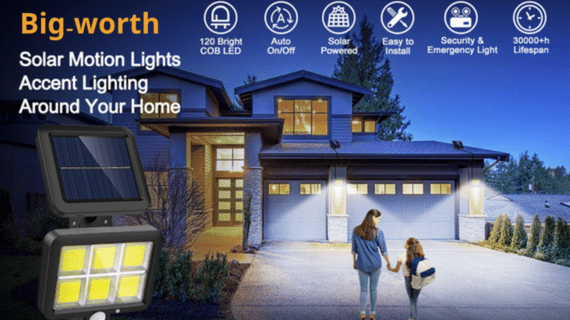 Warm Tips:
-The third mode is always on medium light, it can only light up 5-6 continuous hours. To save the battery power, we would recommend you to use the first or second mode.
-In order to maximize the lighting effect, please make sure the solar outdoor lights absorb adequate sunlight. It's important to install the solar panel in a location away from the shade caused by trees, buildings and etc. A install height of 6.5-8 FT is recommended.
-The light will not turn on in daytime or bright area, as solar panel has light sensor in it. Make sure the solar light charged by sufficient sunlight, then you can cover the solar panel with something, and then push the button to choose modes. Its sequence is: off, mode 1, mode 2, mode 3, and then go off again.
-If there are rainy days or days without enough sunlight for several days, the lights may not light up at night because of lack of power. Please charging the lights at least 8 hours when the sun is out.
Related Product
For more related products, click on the picture to view the details.
What are the dimensions of the back mounting plate for the lights?
Its dimensions are 2.36*1.58 inch (6*4 cm).
I know this does not come with a remote, but can it still be operated by a remote?
Sorry, it can't not be operated by a remote.
Could this be put to a power source besides the solar panel and kept on for 6 to 8 hours at high light?
If you put a power source(light source) besides the solar panel, the light will not turn on. The light will only turn on when the solar panel senses it is dark around. The light will light up at high light to 180 times, about 2 hours in total if fully charged.
Is the motion sensor on the lights or the panel? If on the lights, will they act independently or both come on when one sees motion?
The motion sensor is on the light. They act independently when one sees motion.
How small the size these solar motion ligths will detect? Will they detect my dogs, or just human?
Yes, they detect any moving creatures, as long as they are in the detecting range, which is within 23 ft at a 120° angle.
Can the cable be removed? I need to fish it through a hole in my shed.
Yes, one end was fixed on the solar panel, and the other is removable. You can fish it through a hole in your shed.