Solar Camping Light
| | |
| --- | --- |
| Model Number: | BW-CMP-2004 |
| Item Weight: | 2.22 pounds |
| Material: | Copper, Plastic |
| Size: | 6.2*6.2*10.8 inches |
| Light Source: | LED |
| Power Source: | Solar powered |
| Working Time: | 15 hours after fully charged |
| Style: | Classic |
2 Lighting Mode
This solar camping light is no longer in a single working mode, it has a constant light mode and a dancing flame mode. The constant light mode is suitable for a series of activities such as reading, while the beating flame mode will delight the user's mood and bring a sense of mystery, suitable for garden barbecues or outdoor camping. Of course, it will not cause a fire compared to traditional lanterns.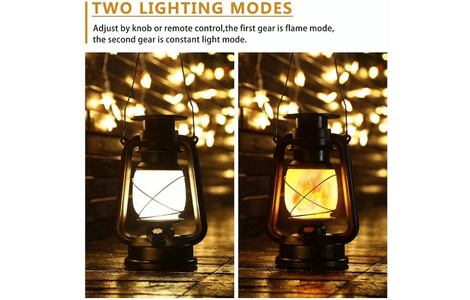 Product Features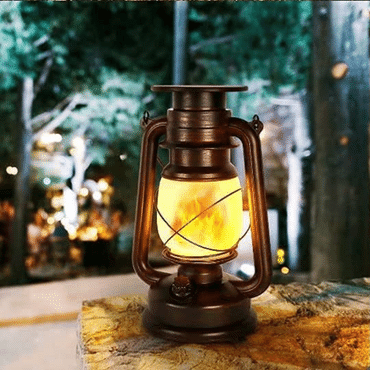 The paint on the outer layer of the lantern adds its own charm, making it more retro and aesthetic. At the same time, the paint also plays a certain protective role on the lamp body. At night, the houses and courtyards are enveloped in gentle lights, making people feel comfortable and peaceful.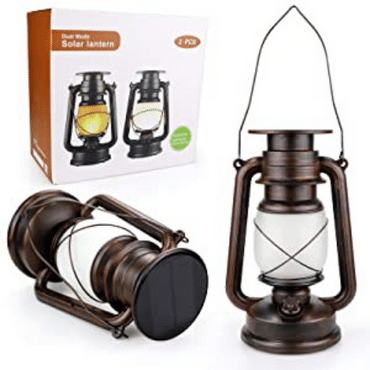 The eye-catching appearance of this lantern makes it ideal to be placed anywhere such as gardens, patios, desks, and treetops. It has a durable hook, so it is no problem to hang it, which will also save you a lot of space. You can also carry it in your hand when hiking or camping, which is very convenient.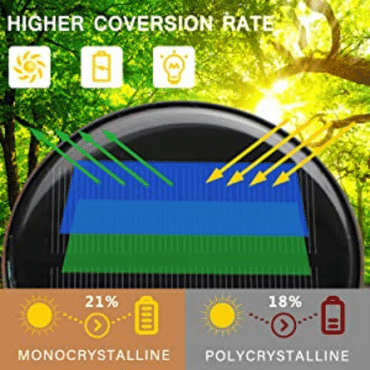 Our lantern is equipped with a 1200mAh rechargeable battery, the large capacity allows it to keep lighting for up to 12 hours at night after being fully charged during the day. However, it should be noted that the specific working hours are affected by weather and geographical location.
IP65 waterproof means our solar camping lights can work as usual in extreme weather and harsh
environments. Don't worry about melting ice and snow, rain seepage, and strong wind, the camping
lights are durable beyond your imagination. So whether it's an outdoor event, yard party, or house
decoration, our solar-powered outdoor camping lights are a perfect choice.
Energy-Saving
This camping light is completely solar-powered, so you don't need to connect extra wires, and you can take it with you and use it anytime. It also does not require additional batteries, which is in line with the current concept of energy saving and environmental protection. All you need to do is place it in a sunny spot and it will absorb solar energy automatically. There is no need for you to manually switch it at night, it will automatically light up, creating a happy atmosphere for your night activities.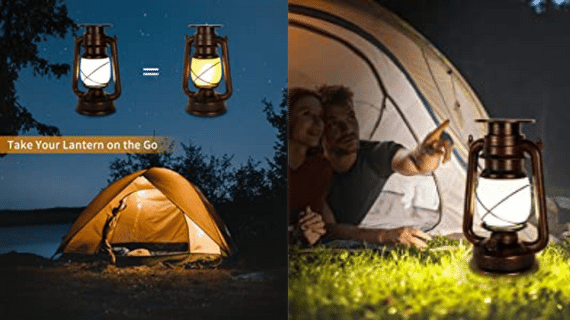 Good Helpers For Camping
These camping lights are often used outdoors because they are light enough to be easy to carry. They're also made of high-quality plastic, so you don't have to worry about bumps causing damage to your camping lights. No more troubles when walking, camping, or emergency power outages, because it will help you solve most of the troubles.
Related Product
For more related products, click on the picture to view the details.