Solar String Light
Model Number:
BW-PSL-3026
Item Weight:
12.6 ounces
Color:
‎Multicolor
Material:
‎Plastic
Shape:
‎Dragonfly
Size:
3.2*2 inches

Light Source Type

:

LED

Power Source

:

Solar Powered, Battery Powered
Lovely and Realistic Dragonfly Shape
21 feet long string with 30 plastic simulation dragonfly. The shape of dragonfly themed gift light is highly lifelike dragonfly, very lovely. When it is hung up, like a group of colorful dragonflies flying, it will make your mood cheerful and create a harmonious atmosphere. Suitable for bedroom, courtyard, terrace, balcony, BBQ, tent decoration.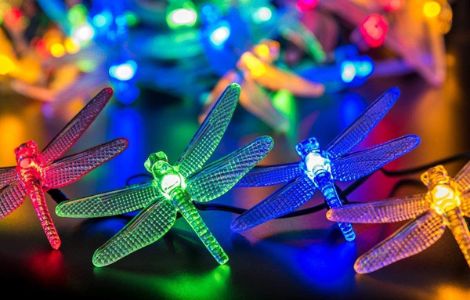 Specifications:
Precautions for First Use
LED Quantity: 30 per String
Total Length: 31 Feet
Lighting Length: 24.5 Feet
Charging Time: 4~6 Hours
Working Time: 8~10 Hours
Working Temperature: -20℃~+60℃
IP Rating: IP65 Waterproof
Solar Panel: 2V 170mA
Rechargeable Ni-MH Battery: 1.2V 800mAh
1.Remove the package and make sure everything is in a good condition.
2.Assemble the solar panel to the cradle on the anchor spike.
3.Turn the ON/Off switch at the bottom to ON position before charging.
4.Put the light at the right and safe place.
8 Lighting Mode
The dragonfly decorative lamp not only looks vivid and beautiful, but also has 8 lighting modes. Whether you want combination, wave, sequence, gradient lighting modes, or chasing, slow retreating, flashing, and always-on lighting modes, the Dragonfly light string can meet your needs. You can adjust different modes according to your mood. This is also perfect for important festivals like Christmas, Halloween, birthday parties, weddings, etc.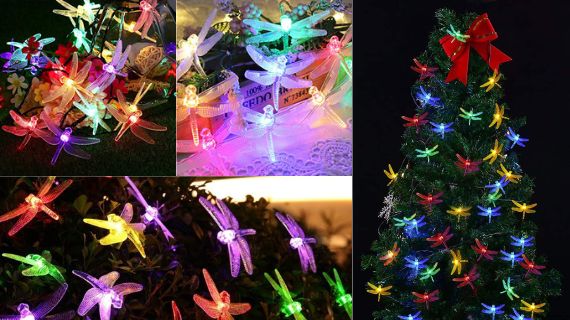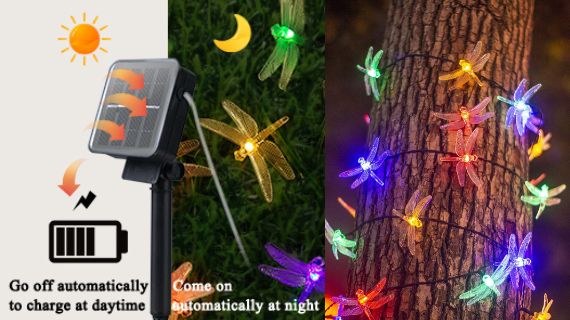 Efficient Solar String Lights
The factory is equipped with sophisticated 180-degree adjustable monocrystalline silicon solar panels, and the solar panels have built-in photosensitive elements, so the dragonfly lights can automatically turn on at dusk and turn off at dawn. Plus, it has a built-in 800mAh rechargeable battery. When the built-in NiMH battery stores enough solar energy during the day, the string light can automatically work for 8 to 10 hours at night, illuminating you throughout the night. Save electricity and money, no manual operation is required, and lighting decoration is very convenient.
Function of Waterproof
Made of the highest quality and most durable materials, Dragonfly Decorative Lights are carefully designed to withstand any weather, be it rain, sun or snow. All components support IP65 water resistance, suitable for indoor and outdoor use. Hang it on the flowers and trees in your garden and it can provide vitality for your garden. Place them on vines, porches, bedroom windows, balconies, walls to make your environment more colorful and cozy.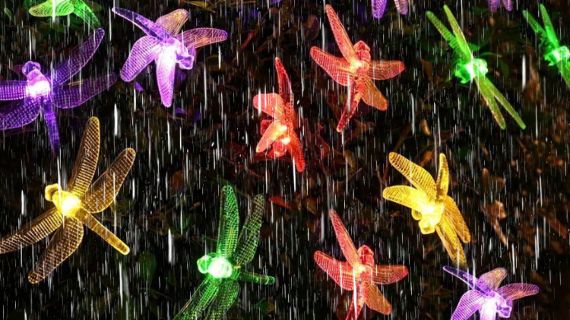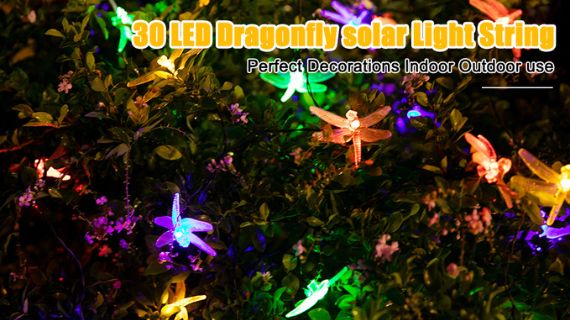 Note:
1.Before first use, please charge lights under direct sunlight without any shelter for 1 sunny day.
2.Please totally cover the solar panel or put it upside down and press the on/off button to see if lights light up, if not, press again! Lights should work and then install them in your favorite places.
3.The selected location should not be near strong ambient lighting, such as street lights, which may cause the light to turn off automatically because the light sensor inside will detect the light and will not turn on.
4.How long the light illuminates will depend on your geographical location, weather conditions, and seasonal light availability.
5.If battery capacity reduces over time, switch the light off for 3-5 sunny days in order to boost the batteries.
Related Product
For more related products, click on the picture to view the details.
Are the string lights waterproof? I really want to use them for my outdoor space but we have sprinklers constantly on.
Yes, they are. They are IP65 waterproof and no matter what the weather, they will work normally.
How long is the solar string light? I want to use it to decorate my backyard.
The string lights is about 31 feet in total and the lighted length is about 24.5 feet, suit for patio, yard, garden, grass, wedding, Christmas, party decor.
How large are the dragonflies and do they look cute?
They are about 2 inch wide and 3.2 inch long. The shape of dragonflies string light is highly lifelike dragonflies, very lovely. When it is hung up, like a group of dragonflies flying.
I want to find a light string with multiple lighting modes. Is this ok?
Of course, the dragonfly solar string lights has 8 lighting modes, you can choose your favorite lighting mode through the lighting mode button.
How many hours can this string lights work in the night?
It depends on the solar energy absorbed by the solar panel. Generally speaking, it can work up to 10 hours after 4-6 hours of charging by sunlight.