Solar Mouse Repeller
Model Number:
BW-REP-6011
Item Weight:
6.4 ounces

Color

:

Green

Size:
2.4*2.4*9.8 inches

Material

:

Acrylonitrile Butadiene Styrene

Battery:
1.2V / 1200mAh Ni-MH Rechargeable Battery
Power Source:
Solar Powered

Target Species

:

Chipmunk, Groundhog, Mouse, Rat, Snake, Gopher, Vole, Mole
Solar Powered Mole Repellent
The gopher repellent ultrasonic device vibrates every 20 seconds and emits low-frequency sound pulses of 400 to 1,000 hertz, which penetrate the soil and prevent those burrowing rodents that are sensitive to sound and vibration from entering the reserve. Our gopher repellent has twice the buzzer vibration to ward off more moles, gophers, snakes, mice and other rodents. So you can also stay away from mole traps and mole poison. It is very safe and convenient.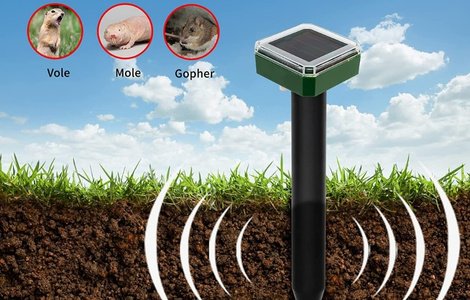 Solar-powered Device
The top solar cell is a built-in rechargeable battery to ensure day and night durability. Solar panels can convert sunlight into electricity and store them in rechargeable batteries, so the installation location must be chosen to be directly exposed to sunlight for optimal use. Also, keep your solar panels clean, as dirty panels reduce the amount of sunlight available for battery charging.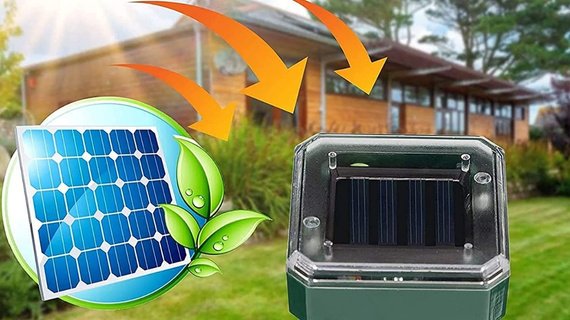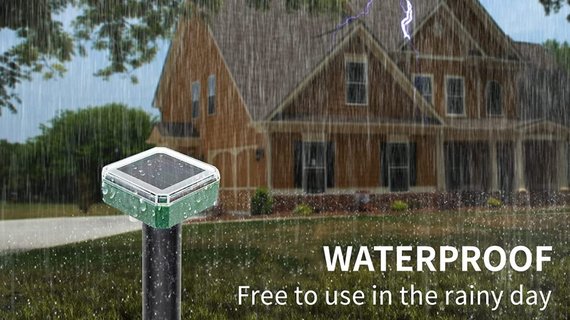 Waterproof & Safe & Durable
The mole repellers are suitable for all weather conditions, waterproof and rainproof, choose the right location to insert the device into the ground, and require no maintenance. Additionally, rodent repellants are based only on low frequency sound wave vibrations to scare away burrowing rodents without the use of harmful chemicals and poisons that can harm your soil, pets and family. And the mouse repellent is also made of high quality abs material to ensure maximum durability and longevity.
Wide Coverage
Each outdoor gopher repellent has an effective range of up to 7,000 square feet. Also, we recommend installing yard repellers every 50 feet across your lawn for optimal performance. If the garden is large, it will generally take 1-2 weeks to get the gophers out of the garden, after a few weeks the garden will be free of these pesky critters.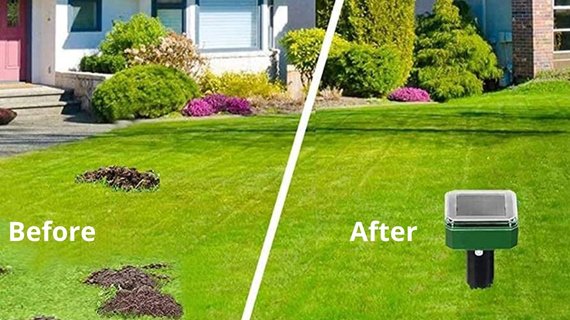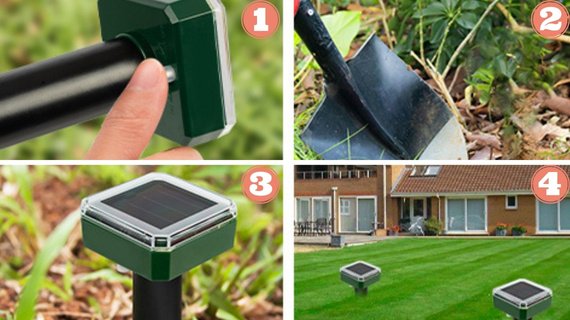 NOTICE
The effect is remarkable after using for 2 to 4 weeks, it is recommended to keep operating in 24 hours.
Please keep it works all the time till rodents activities disappear.
Make sure the solar mole repellent has not been damaged during transportation before using. Operation is forbidden if there is a damage.
Use a wooden or steel rod(or a hard thing) to help inserting the spike by making a pilot hole. Do not hammer it into the ground in case of damage.
Please do not press the front side of the solar panel, this could lead to damage.
Insert the spike until the cap is flush with the ground cause it could be a tripping hazard if this device is above the ground. Or insert the spike into the ground to prevent hitting by a lawnmower.
Related Product
For more related products, click on the picture to view the details.
Will this noise bother my pet dog?
No. The low frequency sonic pulses travel underground through soil but cannot be heard above the ground.
Does this work for snake control?
Yes, it wards off moles, gophers, snakes, mice and other rodents.
Does this work for insects, flies, mosquitos, flees, spiders?
It works best for moles, snakes, gophers, rodents.
Do I need to kept the switch on for battery after charged then solar panel will do its work or turn it off and save the battery?
Just put it in the ground as indicated in the instructions, turn it on and forget it. If you turn it off it will not do anything. The Solar panel keeps the battery charged.