Solar Floating Light
| | |
| --- | --- |
| Model Number: | BW-PSL-3041 |
| Color: | RGB (Red, Green, Blue) |
| Shape: | Oval |
| Material: | Polyvinyl Chloride |
| Item Weight: | 1.3 pounds |
| Size: | 9.65*9.65*2.48 inches |
| Batteries: | 1 Lithium Ion batteries required. (included) |
| Light Source Type: | LED |
16 RGB Colors And 4 Modes
This solar pool float light comes in a variety of colors to match your style. You can turn it on/off and switch between 16 different color options and 4 lighting modes via the remote control. The remote control distance is within 13 feet, making it more convenient for you to use. At the same time this solar light can also be used as a perfect decoration for home, paths, gardens, swimming pools, ponds, parties.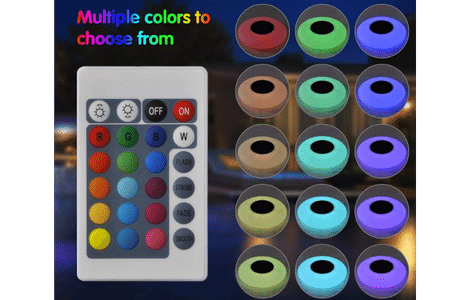 Charging Time: 6-8 Hours
Working Time: 8-10 Hours
Voltage: 3.7 Volts
Lighting Method: Adjustable
Control Method: Remote
Power Source: Solar Powered
Special Feature: Waterproof IP68, Auto on/off
Energy Saving & Environmental Protection
Solar pool float lights are powered by solar energy. Built-in battery and photosensitive system. During the day, it absorbs sunlight and stores it, and at night it releases the solar energy and converts it into electricity for automatic work and lighting, and it automatically turns off at dawn. No need for your hands to operate, intelligent and convenient. Therefore, this solar light is more energy efficient than other LED lights on the market in general.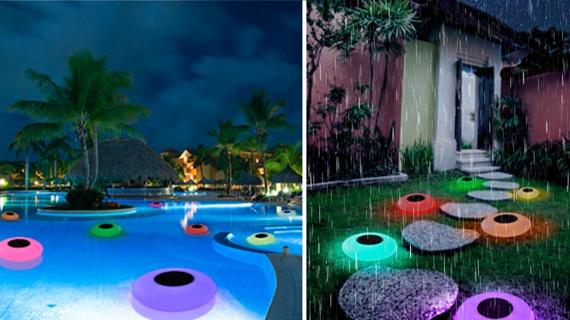 Super Waterproof
IP68 waterproof rating, so the solar floating light can be used indoors and outdoors, even in rainy days or swimming pools. At the same time, it is also the best landscape decorative light, suitable for weddings, passages, fountains, festival celebrations, etc., it will bring amazing effects.
Related Product
For more related products, click on the picture to view the details.
How long will these lights last on a full charge?
Regarding our solar swimming pool floating light, it takes 6~8 hours to fully charge under direct sunlight, and it can last about 8~10 hours for continuous lighting when fully charged.
Can they be used outside of pool as well?
Yes, you can also put solar floating pool lights on your garden, patio or party for decoration.
What color do the lights in?
Our solar floating swimming pool lights switch between 16 different color options and 4 illumination modes by the remote control, like blue, red, yellow, green, pink, white, purple etc.
Is there a way the lights can stay on white when they first turn on at night? We only want white w/o having to change it every night with the remote.
Our version of the solar floating lights have improved, and now the products are with memory function, if you use the remote control is set to white light, in the next time the light will show as last off before the light mode and color.
What kind of batteries does this take?
The battery is already installed in it. 3.7V 2000mAH, The swimming pool light charged by solar power, it absorbs solar energy during the day and lighting up at night. Before you used the swimming pool lights, please put it on the derect sunlight to charge.