Solar String Light
| | |
| --- | --- |
| Model Number: | BW-PSL-3190 |
| Item Weight: | 10.5 ounces |
| Shape: | Butterfly |
| Voltage: | ‎2 Volts |
| Type of Bulb: | ‎LED |
| Power Source: | Solar Powered |
| Special Feature: | Waterproof |
| Occasion: | Christmas, Thanksgiving, Wedding |
Lovely and Realistic Butterfly Shape
13.12 feet long string with 12 realistic butterflies. If you participate in the butterfly-themed light show, then it is definitely the most prominent work. When it hangs, it's like a flock of colorful butterflies flying around you, creating a wonderful atmosphere that makes you feel like you're in a wonderland. It is very suitable for bedroom, patio, garden, balcony, barbecue, tent decoration.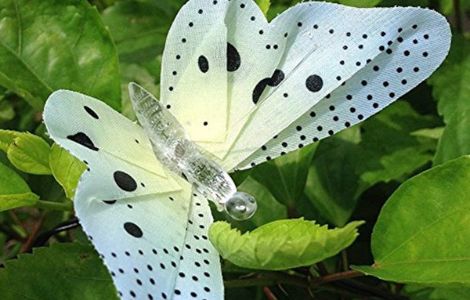 Charging Time: 4-6 Hours
Working Time: 6-8 Hours
Solar Panel: 2V 100mA
Lamp Bead Amount: 12
Total Length: 13.12 feet (4 meters)
Lamp Spacing: 5.9 inches (15 cm)
The distance between the solar panel and the first lamp bead: 6.56 feet (2 meters)
Efficient Solar String Lights
These are really good quality butterfly string lights that are powered by solar energy. Just place it where the sunlight can reach it, and it will automatically absorb sunlight during the day and convert it into electrical energy storage. As night falls, it automatically lights up with a soft and cozy glow to illuminate your gardens, paths, windowsills and bedrooms.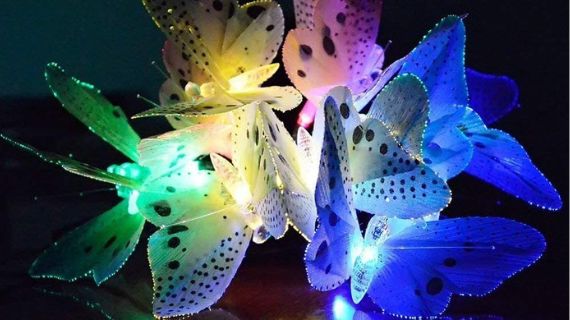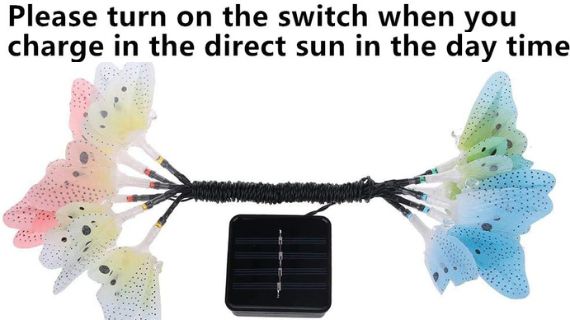 Energy-Saving
No wiring and no extra electricity bills. This is a true low-power decorative light, powered by solar energy, energy-saving, environmentally friendly, safe and reliable. With just a few minutes of installation, you can enjoy the wonderland-like atmosphere. When fully charged, it can illuminate for 6-8 hours. However, note that the lighting duration is closely related to the actual received light intensity, lighting time, weather conditions and geographical location.
Waterproof
The Butterfly Decorative Lights are made of high quality durable materials and have been carefully designed to withstand any weather. Whether it's raining or snowing, it will work without fear of damage from bad weather. Therefore, it is not only suitable for indoor decoration, but also suitable for outdoor use. You can use it to decorate your garden, porch, balcony, trees and anywhere you want.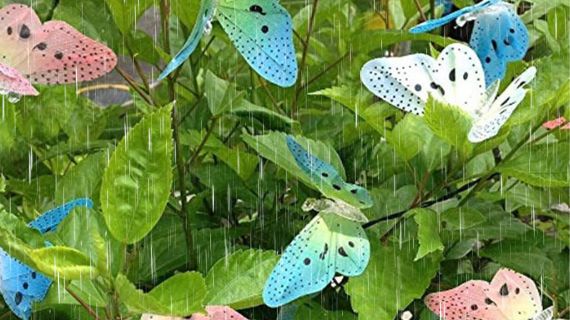 Related Product
For more related products, click on the picture to view the details.
Do these turn on automatically at night?
Yes, they will light up automatically when it gets dark, no need to do it manually, which is very convenient.
How long are the string lights?
The total length of the string is 13.12 feet (4 meters), the distance between the lights is 5.9 inches (15 cm), and the distance between the solar panel and the first lamp bead is 6.56 feet (2 meters).
Will it get hot when working for a long time?
No, it has very little power and is safe and reliable.
Are they waterproof? It rains a lot where I live.
Yes, they are waterproof, no need to worry about seeping in even if it rains, they will work as usual.
Can I give it as a gift?
Of course, the butterfly-shaped string lights are beautiful and perfect for gifting to family or friends.