Solar String Light
Model Number:
BW-PSL-3023
Item Weight:
3.25 pounds
Material:
‎Plastic
Color:
Warm White
Wattage:
1 Watts

Strand Length

:

48 feet

Number of Bulbs

:

15

Power Source:
Solar Powered
Flexible Installation
The solar patio light string requires no sockets, just use the included stakes and clips to place the solar panels almost anywhere, so even spaces away from buildings can be well-lit. The loops on each bulb have hooks or guidewires – connect all the loops for a straight look or just a few for a scalloped look. The lights are the perfect decoration for balcony, terraces, gardens, bistros, pergola, gazebos, tents, barbecues, city rooftops, markets, cafes, umbrellas, dinners, weddings, birthdays, parties and more.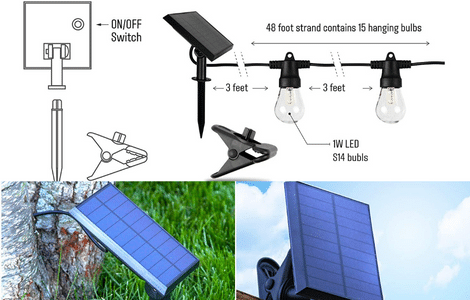 Elegant Romantic Ambience
The outdoor LED string lights use vintage Edison Bulbs. Install this hanging lights string as a canopy over
your porch or gazebo for a retro bistro look and a pleasant party ambience. Make your outdoor space to
be an enticing, relaxing and soothing retreat with the solar outdoor lights. 2700K warm white lights are
bright enough to grill and eat, without being overpowering. It fully charges after 6 hours of direct sunlight,
then you can use it for 5-6 hours and enjoy till late at night. Of course, indirect sunlight is fine too, but
provides less electricity per hour.
Durable String Lights
48 ft long string lights with 15 LED lights and detachable solar panel with on/off switch located on the back. 3 inches between bulbs and between the solar panel and first bulb. The lighting section is 42 feet long. LED bulbs last 20,000 hours and solar panel is rated at 1,000 charge lifespan (can last approximately 2.5 years). Direct sunlight is best for a full charge, though you can get some use from charging in indirect light.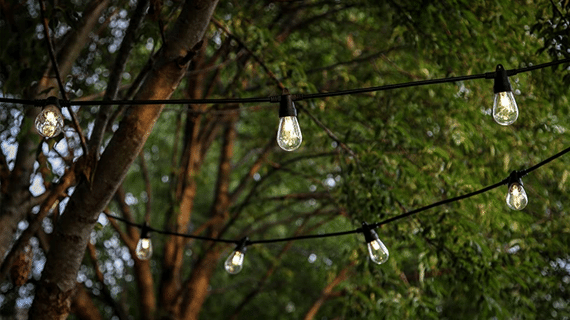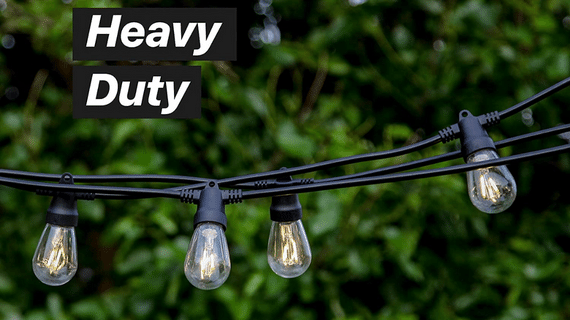 Shatterproof and Waterproof
These string lights consist of 15 S14 shaped LED bulbs, each with a wattage of 1 watt. The string light can withstood winds up to 50MPH, rain & snow. The LED's are wrapped in a layer of silicon for protection and also encased in durable plastic bulb covers to provide as much protection to the lights as possible. The bulbs are shatterproof plastic shells, with heat resistance up to 122 degrees Fahrenheit. Flexible heavy-duty cord withstands the wear of indoor and outdoor use.
NOTICE
The panel needs about 6 hours of sun for a full charge, and the switch needs to be in the on position while charging, but once fully charged, it will power your strand to shine for at least 6 hours after sundown.
The photocell in the panel will turn the strand on automatically so that there's no additional work necessary after your initial setup.
There is 3 feet of space between the solar panel and the first light, and an additional 3 feet at the other end to secure the strand.
We recommend using a guide wire as the sturdiest way to hang the strands, but you can also use zip ties or hooks to hold the main wire in place.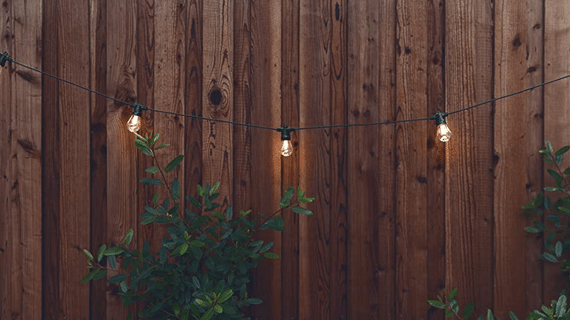 Related Product
For more related products, click on the picture to view the details.
Does this market lighting have an on/off switch?
Yes, on the back of the panel.
Are the bulbs replaceable?
Yes, bulbs are replaceable.
Does it have to be in direct sunlight?
No, indirect sunlight works too, but less well.
What is the life of the bulb?
The LED bulbs last 20,000 hours.
What type of rechargeable batteries are inside?
These panels have a rechargeable Li ion 3.7V 2000maH battery.
Will the solar battery charge if the lights are disconnected? That is, can I charge the solar battery alone and then later connect it to the lights?
Yes, the solar panel is able to charge while disconnected from the lights.