Solar Floating Light
| | |
| --- | --- |
| Model Number: | BW-PSL-3206 |
| Material: | Vinyl, Plastic |
| Size: | 14*9*19 inches |
| Item Weight: | 2.03 pounds |
| Battery: | 1 AA batteries required. (included) |
| Light Source Type: | LED |
| Waterproof: | IP 68 |
| Power Source: | Solar Powered |
Add Joy To Life
Simple yet elegant, this solar floating pool light features a flaming bird design that is eye-catching and unique. During the day, your gardens, balconies, paths and pergolas will be a sight to behold because of its presence. At night, the super bright LED lights create a romantic and wonderful atmosphere for you. Best of all, it's the perfect gift for a holiday or anniversary or birthday event.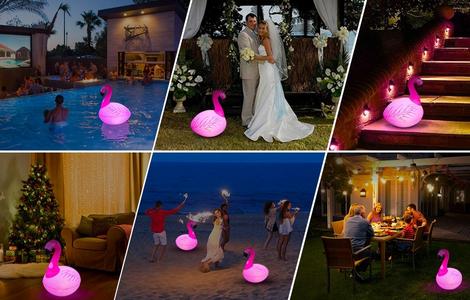 The flame bird solar floating pool light has a built-in solar rechargeable battery and is completely
powered by solar energy. It automatically absorbs solar energy for charging and energy storage during
the day, and automatically illuminates at night. So there is absolutely no need to buy extra wires or
batteries for installation, and there is no need to pay extra electricity bills. This solar light is energy
efficient and easy to use, but it's important to note that the more sunlight the lamp receives, the longer it
will be illuminated at night.
Easy To Use
No need to worry about receiving the Flaming Bird Solar Floating Pool Lights and not using them, they are very easy to operate. Blow them up and leave them on the pool or ground and they will float. Of course, they will not be easily blown away by the wind, because the base is designed to be heavy. When not in use, simply find the white plastic tube in the package, insert it into the floating pool light and deflate it for storage for the next year.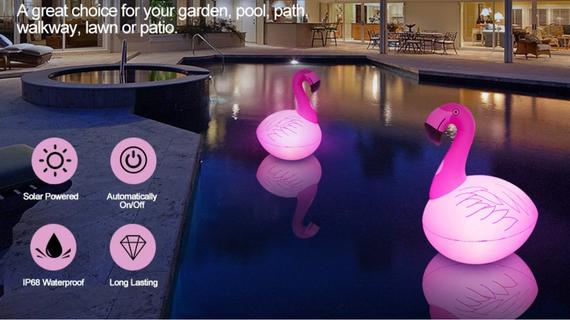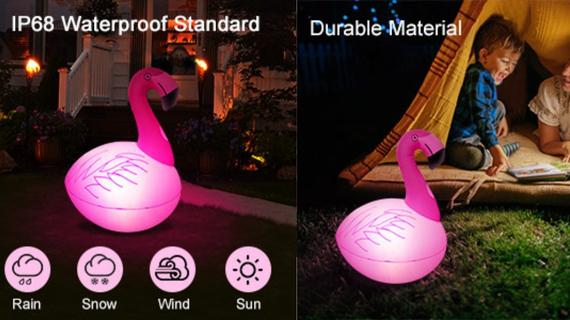 Waterproof And Durable
Made of durable vinyl, our solar floating pool lights are well-constructed, with a specially weighted bottom and a thick overall that lasts longer than other floating lights on the market. In addition to that, it has an IP68 waterproof rating to withstand harsh weather while being suitable for all water features.
Related Product
For more related products, click on the picture to view the details.
Are these solar lights safe to use in above ground swimming pools? Could they be too light to hold still in place?
Yes, they are very safe and easy to use. We made a weighted design on the bottom, which makes the flame bird solar light stable on the water or on the ground.
How to charge this solar light?
The flame bird solar floating pool light has a built-in solar rechargeable battery and a photosensitive system. It will automatically absorb sunlight to charge during the day, and it will automatically work in a dark environment at night.
Are Flaming Bird solar lights only suitable for outdoor use?
No, it can be used anywhere you need it, outdoor gardens, lawns and pools, or indoor parties with no problem at all.
Does it look like it needs to be used with care or it can be easily damaged?
No, it is made of high quality vinyl plastic material, which is more wear-resistant and lasts longer than other types of solar lights in general.
Is it recyclable? I mean occasionally stowed away for next use?
No problem of course, just deflate it and insert the included white plastic tube.