Outdoor Camping Light
| | |
| --- | --- |
| Model Number: | BW-CMP-2001 |
| Color: | Black |
| Material: | ABS |
| Voltage: | 1.5 Volts |
| Type of Bulb: | LED |
| Luminous Flux: | 60 Lumen |
| Power Source: | Battery powered |
| Batteries: | 6 AA batteries required. (included) |
Premium Camping Lights
This camping light can illuminate all places when it is shining, 360° without dead ends. Although it is equipped with 30 LED bulbs and has high brightness when working, it will not make you feel dazzling, it will give you an unprecedented sense of security when camping outdoors. Most importantly, the camping light is made of high-quality ABS material, so even if the outdoor weather is terrible, you don't have to worry about it. Our outdoor camping lights are FCC-certified and RoHS-compliant.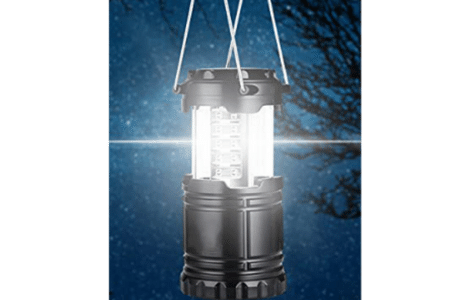 Multifunctional Outdoor Camping Light
The most practical part of this camping light is its foldable handle design, which is convenient for outdoor enthusiasts to hang anywhere, freeing your hands when hiking or grilling, which is smart and convenient. To a certain extent, it also plays a good decorative role, allowing you to live an exquisite life outdoors.
Maybe you have a fear of the dark and worry about unexpected power outages. Then having this camping light is a good choice for you. Whether it is a stormy day, a snowy day, or severe weather conditions such as a tornado or hurricane, it can give you a full sense of security.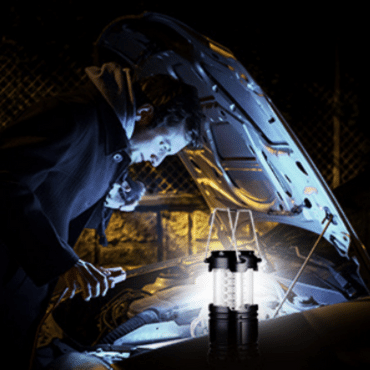 Power outages in the house or car breakdowns are common problems in life. Although they are not difficult, they can also cause us trouble. Then you can always keep one of our camping lights so that there is no need to worry about emergencies such as garage maintenance or power outages.
Stretchable Camping Lights
There are no skills or matters that require special attention in the use of outdoor camping lights. Because it doesn't have any button switch, but just the simplest stretch and collapse design. It is convenient for people of any age to use.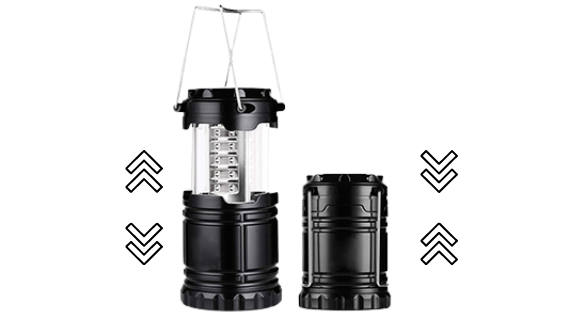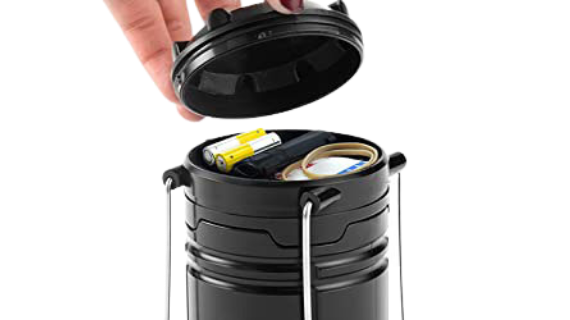 Tactical Storage
It is always inconvenient to bring too many items during outdoor activities or camping. But the paradox is that there are many gadgets that have to be brought. We took this into consideration when designing this camping light, and reserved space in the top cover of the camping light in advance to store some small and practical tools, such as some keys, spare batteries, band-aids, etc.
Compact & Lightweight
When choosing a camping light, the first things to consider are weight and portability. Otherwise, the journey may become cumbersome and easily tiring due to the inconvenient portability of the lamps. This outdoor camping light just meets the requirements of outdoor enthusiasts for small and portable camping lights. These lamps are about the size of a can, and they can be folded to save a lot of space. It weighs less than 10 ounces and can be easily carried around.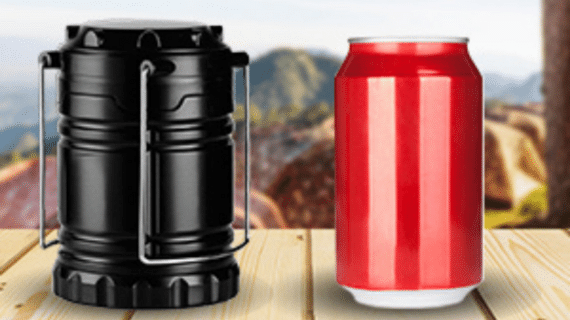 Related Product
For more related products, click on the picture to view the details.
Are these camping lights on when the power goes off?
Absolutely wonderful for when the power goes off. No latches, no screw top, really easy to put new batteries in. There is a small panel in the bottom that opens right up.
What size batteries does it use?
Are these made of plastic or metal?
The black case is plastic and can be pulled apart to reveal the LED lights. The handles are metal and there is a metal strip inside the mechanism that has something to do with how it works. The light shines through a clear plastic.
Can it be safely used inside during a power outage?
The lanterns do not give off any heat at all so they are perfectly safe indoors.
Could I use when work on cars at night?