PVC Lantern
| | |
| --- | --- |
| Model Number: | BW-PLN-4006 |
| Item Weight: | 1.06 pounds |
| Size: | 7.4*7.4*10.62 inches |
| Material: | ‎Rattan |
| Batteries: | 1 AAA batteries required. (included) |
| Light Color: | Warm White |
| Voltage: | ‎1.2 Volts |
| Switch Style: | Push Button |
Natural Rattan Lantern
Handmade bamboo/rattan solar lantern, rustic natural design, with tungsten filament bulb, yellowish light, not very bright, but the atmosphere is great. Distinctly tropical and modern at the same time, these fine pieces will delight you as warm light peeks out between the slats from the lantern inside. Even if it does not shine, it is a beautiful artistic decoration.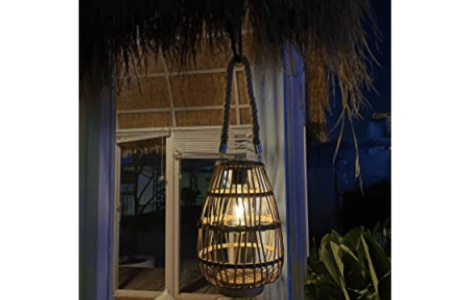 Light Bulb: A Tungsten Light Bulb

Finish Types: Anti-corrosion Painted Surface

Power Source: 1* 1.2V NiMH AAA 600MAH

Solar Panel: 2V/95mA,Polycrystalline

Charging Hours: 6-8 hours

Working Hours: 6-10 hours

Luminous Flux: 5 Lumen

Light Direction: Downlight
Hang or Place on the Ground
The body size of this rattan lantern is 7.5* 7.5* 11 inches, and the twine is
9.3 inches long. So you can easily hang it anywhere, garden, patio or
room. Of course, it can also be placed directly on the ground, which will
all add color to your building.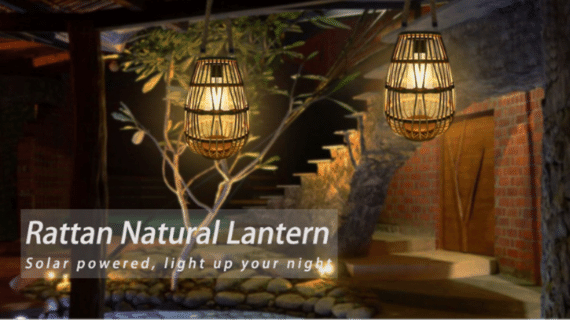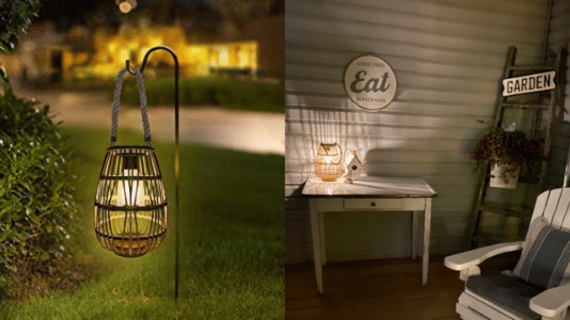 Energy-Saving
100% natural elements, no wiring, auto on/off, polycrystalline solar panels absorb light so that the built-in sensor can turn the light on automatically at dusk, offering you a warm glow well into the night. It can be used both indoors and outdoors. It is recommended to hang it outdoors as full sunlight is required for charging.
Support DIY
If you do not like the led lights, add a glass holder on the inside and a candle or use battery-operated candles to provide a glow. Of course, you can also add some elements you like for decoration, which will definitely have unexpected effects. This rattan light is perfect for outdoor gardens, yards, patios, front doors, tables, decks, wedding decor and more.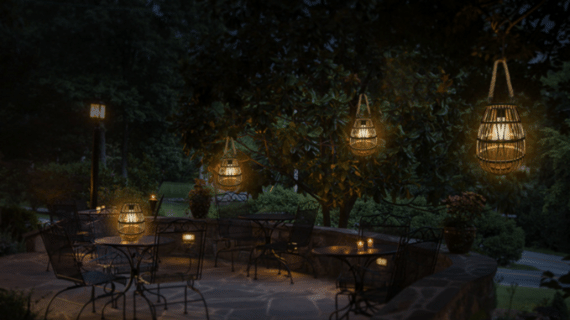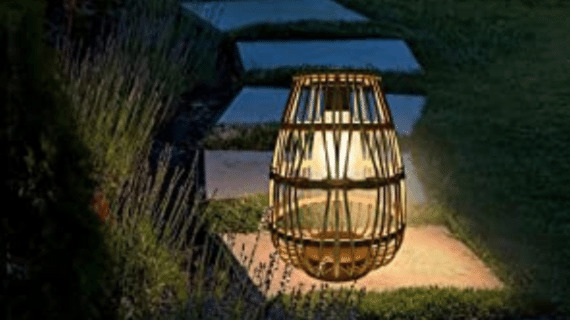 NOTICE
Mainly made for decoration, not for illumination.
Please turn on the switch of the solar panel before use. (Charging 6-8 hours during the day).
Please keep its switch on the ON position all the time unless you want to stop it from working.
Please do not get close to the fire or high temperature.
Although the rattan light is IP44 waterproof and its weather resistance ensures long-lasting performance in most weather conditions, it is made of rattan and bamboo and it won't dry out in time if exposed to rain and snow for a long time, it will be easy to mildew, please understand.
Related Product
For more related products, click on the picture to view the details.
What is the size of this lantern?
The lantern size is 7.4(W)*7.4(L)*10.6(H) inches (20.1 inches with handle).
Can you charge this with a regular charger if you do not get enough sun during the day where you live?
No, this lantern is solar-powered. There is no extra usb port. It cannot be charged with a conventional charger. You can only replace the battery directly. This is not recommended, as it will lose the function of solar charging.
What is the maximum compatible wattage for each bulb? What is the voltage of the light? Does this product include light bulbs?
Maximum wattage 0.5W, voltage 1.2V.
Every product has bulbs installed.
How do I change the battery?
The location of the battery is under the top solar panel.
Steps: 1. Take out the solar panel and bulb; 2. Unscrew the bulb; 3. Unscrew the screw with a screwdriver; 4. Replace the corresponding battery.
Note that the battery you replace must be a rechargeable battery, such as a NIMH battery or a lithium battery. Otherwise it will affect charging and use.
Will this mildew from rain?
Since this lamp is made of rattan and bamboo, if it is exposed to rain and snow for too long and it is not dried in time, it is prone to mildew, please understand.
To solar charge, does it have to be direct sunlight?
Direct sunlight can ensure that the solar panels efficiently absorb sunlight and convert it into electricity storage, which is conducive to the long-term work of the lantern. It doesn't matter if it is not exposed to direct sunlight, as long as there is sunlight, it can be charged, but the working time will be reduced, which is more obvious in winter, and sometimes it may only work for 2-4 hours. This is the commonality of solar products.
Can this hang outside in the winter?
This solar lantern needs to be placed outdoors to ensure that they can take advantage of the characteristics of solar charging and work better at night.