BW-SSS-1004
| | |
| --- | --- |
| Manufacturer: | Big-worth |
| Color: | Multicolor |
| Material: | Stainless Steel + Glass |
| Item Weight: | 150g |
| Size: | 2.4*2.4*3.5 inches |
| Type of Bulb: | LED |
| Charging Time: | 8 Hours |
| Working Time: | 8-10 Hours After Fully Charged |
Perfect Decoration
This LED outdoor solar garden light has a spherical design, and the lampshade is made of glass with an ingenious crack design. The light emitted through the glass is more warm and special, which is eye-catching. It can bring unique decorative charm to your trails, gardens, patios, lawns, backyards and sidewalks, while also adding a lot of ambience to your holiday bash.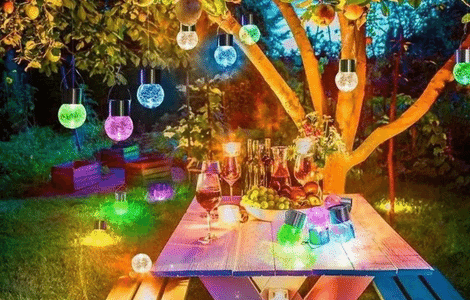 Powered By Solar
The LED Solar Crack Ball Light is completely sun powered. Just turn it "ON" and place it in a sunny area to charge. It uses monocrystalline silicon solar panels, so the photoelectric conversion rate is higher and the charging speed is faster, so that you have no extra electricity bills and burdens throughout the year.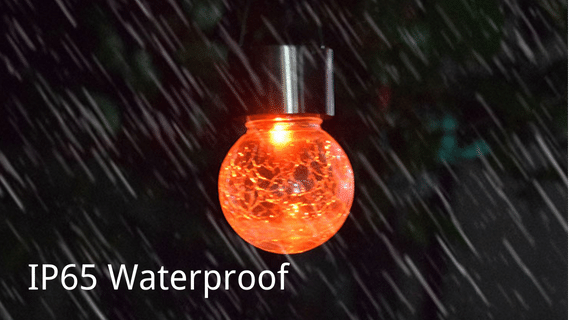 Waterproof & Automatic Switch
Our outdoor solar lights are IP65 waterproof rated to meet various outdoor environments and harsh weather conditions. In addition, it has a built-in photosensitive system. During the day, it will automatically turn off and absorb sunlight to charge, and at night it will automatically open to work for you, completely liberating your hands and making your life more convenient.
Multicolor & Long Life
This LED outdoor solar light has a variety of colors for you to choose, blue, red, yellow, etc., to meet your different lighting needs. And it has built-in high-brightness chip LED lamp beads, low energy consumption while the brightness will not be weakened, energy saving and environmental protection, and long service life, it is the best choice for your lighting.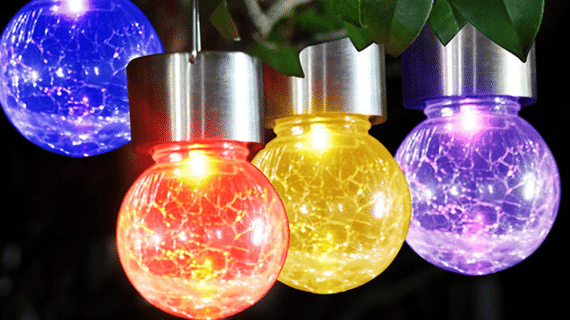 For more related products, click on the picture to view the details.
Can this LED light be hung indoors for decoration at night?
Of course, you can choose to put it in a sunny place to charge it during the day, take it back and hang it indoors at night, or your home is facing the sun, and you can open the curtains to let the sunlight in to charge it.
Is it waterproof enough?
Completely, it is IP65 waterproof and can withstand various outdoor environments and harsh weather conditions.
Is it made of plastic?
No, it's made of stainless steel and glass, and the cracked design is perfect for decorating your home.
What is its size?
It is 2.4*2.4*3.5 inches.
How long does it take to charge?
Place it in a sunny location without the shade of trees, shrubs and buildings, and it only takes 8 hours to charge.